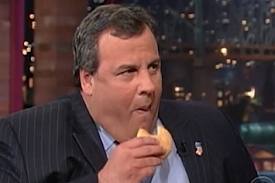 While 2013 may be a quiet year on the federal election front, there will still be plenty of political noise made this fall in the Garden State as New Jersey's state and local elections take center stage. The ardent politicos among our readers are probably disappointed that we won't be seeing the "rising star" gubernatorial showdown between incumbent Chris Christie and Newark Mayor Cory Booker, but there will still be high-stakes drama along the Turnpike as both parties tussle over important state and local offices this November. These races will present ample opportunity for political participation throughout the year by individuals, corporations, unions, trade associations, PACs and organizations from around the country. After all, Governor Christie and other state candidates can't win reelection with only donuts in their pockets… they might need some financial resources as well.
Whether dealing with donuts or dollars, however, due to the combination of federal pay-to-play rules and New Jersey's highly restrictive state and local pay-to-play framework, the Garden State will be a treacherous political playing field for those individuals and entities that "do business" in one manner or the other with state, county and municipal government. This is particularly the case for those who are current or prospective government contractors, and those who fit the definition of investment advisers, municipal securities professionals, or swap dealers.
Readers of this blog should be intimately familiar with federal pay-to-play provisions such as SEC Rule 206(4)-5, MSRB Rule G-37, and CFTC Rule 23.451, which prohibit "covered" investment, municipal finance and swap firms, their covered employees, and any political action committees (PACs) under their control from making, soliciting or coordinating contributions on behalf of covered officials. New Jersey Officials covered under these rules include Governor Christie (who appoints individuals to the State Investment Council and other entities that may select an investment adviser or issue municipal bonds) and various other county and local elected officials who have the authority to directly or indirectly select or influence the hiring of governmental investment advisers, municipal securities dealers, or governmental special entity swap dealers.
Due to these federally-imposed restrictions, potentially-covered firms, employees and their PACs should think carefully about the pay-to-play consequences of engaging politically on behalf of the Governor or any other covered elected officials or candidates for elected office. After all, anything more than a de minimis contribution to a covered official or candidate by an investment adviser, municipal securities dealer, swap dealer or affiliate can lead to a two year ban on the receipt of compensation for services provided to state or local government. Contribution solicitation or coordination activities by covered firms and their affiliates can also lead to similar disqualifications from government engagements.
Federal pay-to-play rules, however, do not represent the only potential political activity traps awaiting those who do business with state and local governments in New Jersey. Existing or prospective government contractors must also be weary of the expansive pay-to-play framework in place at the state, county and municipality levels in the Garden State. At the state level, pay-to-play restrictions set forth in N.J.P.S. §19:44A et seq., N.J.A.C. §19:25-24 et seq., and the provisions of Executive Orders #117 & #118 effectively limit the political giving and fundraising abilities of commercial entities and associated individuals that do business with state government, the state legislature, and various county and municipal governments.
These rules limit political activity by banning certain prospective contractors from entering into agreements with the state if their business entities have solicited or made more than de minimis contributions to candidates for Governor or Lieutenant Governor, or to any legislative leadership committee or state/county/municipal party committee within 18 months of commencing negotiations for a contract or agreement. The state pay-to-play provisions also prohibit existing government contractors from soliciting or contributing money to the same covered officials and committees during the life of their contract or agreement. Additional restrictions likewise limit the political donations and solicitations of state-legislative, county and municipal contractors to de minimis levels within 12 months of seeking a government contract or agreement and during the life of such contract or agreement when the contributions or solicitations involve covered officials. In certain settings, state law also places similar restrictions on redevelopment contractors and individuals or entities that seek to evade the normal pay-to-play rules through indirect, earmarked contributions to covered officials via intermediary groups.
As a result of these restrictions, a wide range of "business entities" and affiliated individuals must weigh whether New Jersey political engagement is worth the potential cost of losing business opportunities with state, county and municipal governments. Potential affected parties include corporations and their officers, partnerships and their partners, LLPs and their partners, professional corporations and their shareholders or officers, LLCs and their members, sole proprietorships and their proprietors, and other organizations and their principals/officers/partners. Directly or indirectly controlled subsidiaries of such business entities, PACs and SSFs directly or indirectly controlled by such business entities, and the spouses and dependent children of affiliated individuals also face a similar dilemma.
Add to this mix the hodgepodge of unique county and municipal pay-to-play provisions layered on top of the statewide rules, and New Jersey political engagement becomes a very risky proposition for potential or existing government contractors, investment advisers, municipal securities professionals, swap dealers, and others who do a great deal of business with government. As such, before our readers dive headlong into political engagement in New Jersey this cycle, it is imperative that they seek out experienced political law counsel and stay tuned for our latest updates from the Garden State.
And for those sticking to donut donations this year, be sure to keep your in-kind contribution of Krispy Kremes to de minimis levels and pay-to-play compliant.
Subscribe and stay updated
Receive our latest blog posts by email.