Readers of this blog know that MSRB Rule G-37 regulates the political contribution activities of banks and other entities which initiate the principal sales of municipal bonds. Specifically, Rule G-37 provides that any broker, dealer or municipal securities dealer which makes a contribution to those who oversee the issuance of such bonds is subject to a two-year "Time Out" for bad behavior.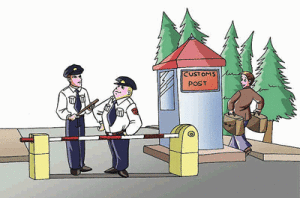 This prohibition extends beyond the activities of individual brokers and dealers. Rule G-37 specifically provides that its prohibition applies equally to "any political action committee (PAC) controlled by the broker, dealer or municipal securities dealer or by any municipal finance professional". For further clarity regarding its intentions, the Rule mandates against circumvention of these restrictions via the wily ways of Legal Loophole Exploiters:
(d) Circumvention of Rule. No broker, dealer or municipal securities dealer or any municipal finance professional shall, directly or indirectly, through or by any other person or means, do any act which would result in a violation of sections (b) or (c) of this rule.
To demonstrate its seriousness about this prohibition, the Municipal Securities Rulemaking Board has decreed that the proper punishment for violation of its rule is that "no broker, dealer or municipal securities dealer shall engage in municipal securities business with an issuer within two years after any contribution to an official of such issuer".
You're still with me, right? Seems pretty clear: "Securities dealers should not use political action committees or other vehicles to circumvent the prohibition against campaign contributions to municipal bond issuers." Some of us have been warning our friends for years that the MSRB views PAC activities as an improper vehicle to circumvent G-37. Others, it might appear, see this as a line ripe for testing.
Last week, David Sirota and Matthew Cunningham-Cook of the International Business Times (two of the best reporters in the business when it comes to ferreting out potential links between contributions to those in power and official action) broke a story detailing contributions to New York Governor Andrew Cuomo by three PACs associated with NY bond issuers. Political Action Committees associated with these banks, it would appear, contributed more than $131,000 to the Governor prior to being selected by his administration to manage state bond work. The banks do not dispute the contributions by their PACs but rather challenge the premise that these PACs represent contributions by the individual bond dealers or a PAC that they control:
"Citi has two separate PACs, a state and a federal," said Citigroup spokeswoman Molly Meiners. "To the extent anyone on our Muni team donates money, they are required to give to our Federal PAC only, which has never given to Cuomo."
Ultimately, the determination surrounding this situation will be factual in nature and this blog is never one to cast the first stone when it comes to the challenges of applying well-intentioned regulation in the real world. As we warned back in 2010, however, this factual inquiry is informed by specific guidance issued by the MSRB in August of that year, which clearly establishes that this is not an area where winks and nods will be tolerated:
Indirect Contributions Through Bank PACs or Other Affiliated PACs
As noted above, if an affiliated PAC is determined not to be a dealer-controlled PAC, a dealer must still consider whether payments made by the dealer or its MFPs to such affiliated PAC could be viewed as an indirect contribution that would become subject to Rule G-37 pursuant to section (d) thereof. The MSRB has provided extensive guidance on such indirect contributions, noting in 1996 that, depending on the facts and circumstances, contributions to a non-dealer associated PAC that is soliciting funds for the purpose of supporting a limited number of issuer officials might result in the same prohibition on municipal securities business as would contributions made directly to the issuer official. The MSRB also noted that dealers should make inquiries of a non-dealer associated PAC that is soliciting contributions in order to ensure that contributions to such a PAC would not be treated as an indirect contribution.
The MSRB also has previously provided guidance in 2005 with regard to supervisory procedures that dealers should have in place in connection with payments to a non-dealer associated PAC or a political party to avoid indirect rule violations of Rule G-37(d). In such guidance, the MSRB stated that, in order to ensure compliance with Rule G-27(c) as it relates to payments to political parties or PACs and Rule G-37(d), each dealer must adopt, maintain and enforce written supervisory procedures reasonably designed to ensure that neither the dealer nor its MFPs are using payments to political parties or non-dealer controlled PACs to contribute indirectly to an official of an issuer. Among other things, dealers might seek to establish procedures requiring that, prior to the making of any contribution to a PAC, the dealer undertake certain due diligence inquiries regarding the intended use of such contributions, the motive for making the contribution and whether the contribution was solicited. Further, in order to ensure compliance with Rule G-37(d), dealers could consider establishing certain information barriers between any affiliated PACs and the dealer and its MFPs. Dealers that have established such information barriers should review their adequacy to ensure that the affiliated entities' contributions, payments or PAC disbursement decisions are neither influenced by the dealer or its MFPs, nor communicated to the dealers and the MFPs.
Big Bond Firms Test the MSRB's Compliance Line